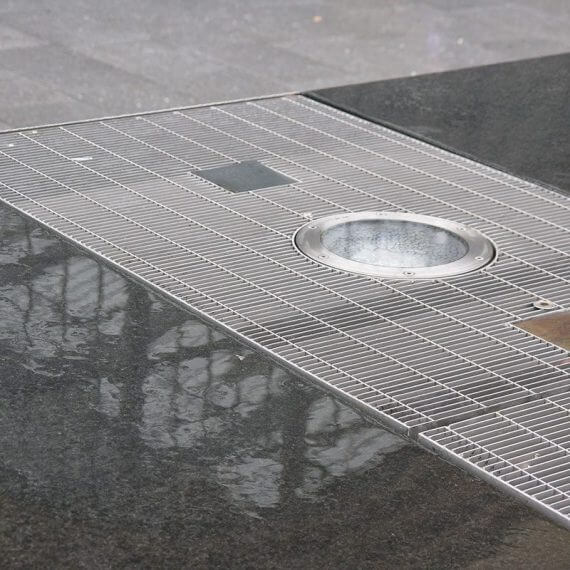 Steel Grating Metal Walkway Serrated Drainage Steel Grid Grating to Construction
What is steel grating?
Steel grating, likewise known as bar grating or steel grating, is an open grid construction of metal bars. The bearing bars, running in one instructions,  spaced by stiff add-on to go across bars running perpendicular to them or by bent connecting bars prolonging in between them, which created to hold heavy lots with marginal weight.It widely utilized as floor, mezzanines, stairway treads, secure fencing, trench covers and also upkeep platforms in manufacturing facilities, workshops, motor rooms, cart networks, heavy loading locations, boiler tools and hefty tools locations, and so on.
Steel grating is a vital construction in industrial and business settings. In its most usual applications, it helps maintain employees & visitors in a facility secure, offering a stable floor covering base as well as grip when walking at ground degree and, specifically, at elevations. It also can serve as a reliable security barrier, aiding to deter crashes from hurting staff, devices.
Stainless steel grate specifically valuable in this context,since it resists corrosion and rust. That indicates a better long-lasting value to business using it. Grating can tailor-maked to fit in various facilities, taking various load-bearing demands and other factors right into account.
A product as versatile as metal grating has much more applications than its most acquainted one.  Safety applications with new styles to integrate, like a certain aesthetic to set a mood when getting in facility.
What is steel grating used for ?
Here let's have a look at 4 uncommon and attractive applications of metal grating.
A special, constant aesthetic
Metal grating can deployed as basic flooring, pathway coverings and mezzanines. Safety and toughness always the most essential factors in applications. There are additionally opportunities to produce a combined aesthetic for a facility within weight support. This unified visual feel can make a facility appear more natural overall, on the surface of a unified. It can additionally included safety obstacles, strengthening this holistic approach to style.
Visually appealing applications in entrance ways and office spaces
Not every site within an commercial facility or industrial requires steel grating from a safety and security or practical perspective. Workplace, entrances beyond the manufacturing facility or storehouse might not need the same slip protection and support.  However, metal grating can use a unifying element in these locations, aesthetically connecting areas along with a unified look.
Using the same metal grating sustaining flooring framework at entrance way or foyer,  will show purpose to everyone who steps foot inside it. Steel grating can mounted to walls to provide visual context. It can be a powerful style aspect that creates a sense of unified function.
3.Heavy Duty Metal Grating Ensure Safety and Durable lastingHeavy duty steel grating products much better strength-to-weight ratio than other floor covering materials to bear the hefty load such as forklift or truck website traffic.Because these gratings are generally in more extreme service, it very suggested that all open ends be trim or lots grouped. The welded band bar helps disperse these loads and lessens potential panel distortion.
Galvanized steel,carbon steel or stainless steel material alternative.
Perfect for both industrial and also commercial applications.
Variety of configurations for choice.
Special discounts are available for large orders.
Project reference can provided for your bid.
ISO Certificated factory.
3D drawing or CAD can be provide for your construction and design.
High strength and lighter weight
4.Aluminium– a progressively popular alternation
Steel grating is commonly viewed as the most essential components of support framework. Aluminium is a progressively prominent selection for businesses that don't intend to carry out steel grating. While aluminum lighter weight, but can capably supply the support and also grip needed in a variety of commercial applications. In fact, its lighter weight makes it less complicated to instal in scenarios where the load-bearing capabilities of the underlying assistance structure is a crucial factor to consider. Its light weight additionally enables it to be a lot more quickly made use of as a false ceiling, facade or landscape feature, bringing a variety of aesthetic layout alternatives to the table.
Materials
What differences between galvanized steel and stainless steel ?
Whether you're speaking about the architectural or aesthetic aspects of structures, steel is one of the most essential innovations in the modern world. More powerful and also more immune to various forms of destruction than iron, steel has actually acted as the stimulant for everything from the bones of high-rise buildings to distinct and also eye-catching layout elements.
Comprehending the distinctions in between the numerous types of steel available can aid you make the most enlightened as well as favorable options possible. Allow's go through a quick testimonial of precisely what steel is, to help set the stage for determining the distinctions in between galvanized steel and stainless-steel.
steel is an alloy, made up by two basic components which iron and carbon.
Alloys can provide a range of essential advantages in various applications, from boosting corrosion resistance to making non-sparking devices.
Particularly, steel has numbers of benefits worldwide of construction as compared to other prospective structure products. It is:
Strong
Sturdy
Easily recycled
Of a predictably excellent quality when forged and finished
With many functional and also aesthetic applications, steel is trustworthy and also functional. Normal steel can be further enhanced in a selection of procedures, consisting of the two in-depth listed below.
Galvanized steel
Material of galvanized steel's defining characteristic is its layer of zinc coating.
Galvanized steel's specifying quality is its layer of zinc coating, which develops a safety layer against the combination of wetness and also oxygen that can otherwise trigger corrosion to form on the underlying steel. Rust slowly but surely eats away at steel, reducing its honesty as well as inevitably developing security problems whether the steel is made use of in a totally functional application or becomes part of a remarkable, personalized facade or other style aspect.
Galvanization is steel or metal, like iron, adding a zinc coating. This process, which can be finished in a few various methods, help increasing convenience and permits many different kinds of steel and also iron to be easily galvanized. The hot dipped galvanization product gives a strong, reasonably thick covering for large pieces of steel using molten zinc. Thermal diffusion galvanizing, meanwhile, is common for smaller items of metal, particularly those that have an extra complicated design. Both warm dip galvanization and thermal diffusion galvanizing have powerful applications.
Generally, galvanized steel is less costly than stainless-steel. It is additionally less complicated to control while still preserving a large amount of strength, but isn't as strong as stainless-steel.
Among one of the most visually unforgettable components of galvanized steel is its variable look. Depending on the specifics of the procedure, galvanized steel can either have a consistent surface or a spangled one, developing a special look.
Galvanization helps offering corrosion resistance, it's vital to note that it at some point wears away, especially when revealed to high levels of level of acidity or to seawater. This is specifically vital near oceans and other bodies of seawater, in addition to areas that face considerable exposure to acid rain.
Stainless steel
Material of stainless steel has no rust and corrosion.
Stainless steel is an alloy made from iron, carbon as well as chromium and occasionally various other components, such as molybdenum, that use significant deterioration resistance. As opposed to being dipped or coated in a safety layer, as galvanized steel is, stainless steel has this protection versus damage constructed into it.
There are several kinds of stainless-steel readily available, each with different structures and also resultant resistance to various types of corrosion and damages. This works for industrial applications where stainless steel parts may deal with constant exposures to caustic chemicals or high temperatures, in addition to in design work where the alloy could constantly exposed to salt water or acidic settings.
The stainless steel manufacturing process is more expensive than galvanized steel but generally stronger.
Stainless-steel can additionally finished in various methods, offering a high degree of custom ability in terms of its final appearance. This visual versatility is especially vital for facades and also comparable design elements that place a high top priority on standing out from the crowd by offering a remarkable or unique visual hook.
Can stainless steel be compatible with galvanized steel?
In a sense, those two type of steel can hypothetically used for a single structure components. Because Stainless steel has forms of compatibility with galvanized steel. Nonetheless, direct contact in a particular case between those two steel, such as moisture and high levels of salt, will deepen the corrosion. In this circumstances, a non-metal material should keep them from touching.
Which steel you should choose for your project ?
There isn't a single, generally applicable rule that determines which kind of steel best suited for your specific job. Understanding the distinctions between galvanized and stainless-steel can go a long way towards helping you make this crucial decision.
Galvanized steel provides a special anti-aging from the finishing process and also can capably do in numerous environments for decades before considerable rust or wear shows up. Nonetheless, stainless steel does not encounter the same specific weaknesses brought on by salt water and also acidic environments, as well as some ranges of this alloy can engineered in such a way that addresses those worries. In mix with the many ways in which stainless-steel can finished, there are a lot of aesthetic and also useful concerns resolved by this alloy.
How to Order Steel Bar Grating ?
Ordering Steel Bar Grating from Goole is EasyPlease specify:1. Type of grating: steel, metal, stainless steel, , aluminum, etc.2. Construction request:a. Welded steel bar gratingb. Press-locked gratingc. Riveted gratingd. Heavy-duty gratinge. Swaging lock aluminum gratingl 3. Bearing Bar:  Bearing bar size, and center to center spacing of cross bars.l 4. Bar span, direction.l 5. kind of anchorage: welded, saddle clips, G clips, grate fast clips, weld lugs,  Z Clipsl 6. Finishing: galvanized semi-finished, painted.l 7. Surface: serrated,plain, or slip resistant surfacel 8. Drawing Includes:a. coverage areab. Span of bearing bar directionc. technique of Supportd.
To learn more about the steel can be put onto in your next project, get in touch with the experts of our company.